Smilefast Braces in Brisbane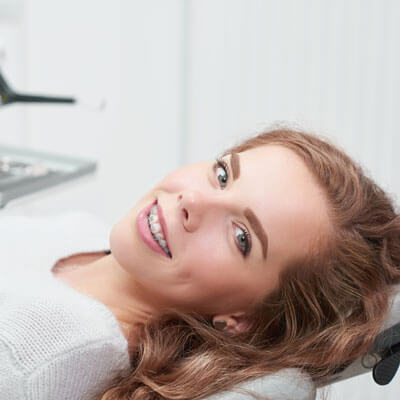 Looking for one of the quickest, most affordable and discreet ways to straighten your teeth? It is never too late to get the smile of your dreams. Smilefast ceramic braces could provide you with beautifully straight teeth without the hassle of chunky metal brackets, that too in a shorter period of time.
Treatment is fast, effective and affordable, with your teeth showing transformation in just six to nine months, compared with conventional braces where treatment can take up to three years.
What is Smilefast?
Smilefast is a short-term, cosmetically oriented fixed brace system based on sound orthodontic principles producing proven and predictable results. It is specifically designed for adults. Computer-aided simulation and digital direct bonding allow your dentist to precisely attach clear brackets and to configure the tooth-coloured wires, without the trials and with fewer adjustments required by traditional braces.
NEW PATIENTS

Once fitted, Smilefast will achieve similar cosmetic results as traditional braces in a matter of months. The clear brackets will not discolour during treatment, so your braces should remain as unobtrusive as the day they are fitted. Treatment is precise, fast and discreet.
Who Can Have Smilefast?
This orthodontic system is suitable for most adults (adults seeking care for children may look at Myobrace treatment) looking to improve the appearance of their teeth in a highly accessible and affordable manner.
Smilefast can treat dental issues like overcrowded or incorrectly spaced teeth, proclined teeth and correct an overbite or underbite. It isn't designed to correct extensive bite problems.
How Does It Work?
On your first appointment, we will take photos and digitally scan your teeth- Using the 3D images from the scan, your dentist will be able to precisely plan the movement of each tooth during your treatment, so the final results are very accurate. These images are used to create a treatment plan which is used by Smilefast to create specialized, custom-fitted impression trays to fit over your teeth.
These trays position each bracket during fitting, ensuring every bracket is positioned exactly where it is needed to create your straighter smile. These impression trays and digital indirect bonding will ensure that the dentist will precisely fit the brackets onto your teeth. With an extremely easy and precise fitting, you will be smiling in no time!
Learn More Today
We'd love to help you achieve the straighter smile of your dreams. Book a visit today to learn more!
CONTACT US

Smilefast Braces in Spring Hill, Brisbane CBD QLD | (07) 3839 7757