Orthodontics in Brisbane
At
Excellence in Dentistry
, one of our main goals is to help patients smile brilliantly and feel confident about their teeth. If you have misaligned teeth, we're here for you with a number of orthodontic options.
Also known as inside braces, these are attached to the inside of your teeth rather than the outside, makes them invisible when you smile – Popular with adults!
The worlds most widely known clear aligners, custom-made and removeable, they are changed approximately every two weeks to move teeth into the desired position.
Best suited to children aged 3 to 15, Myobrace pre-orthodontic treatment focuses on treats the underlying causes of crooked teeth, often without the need for braces or extraction of teeth.
An orthodontic system that uses the latest orthodontics best practices, with smart tooth technology this can mean your stunning new smile is affordable and time efficient.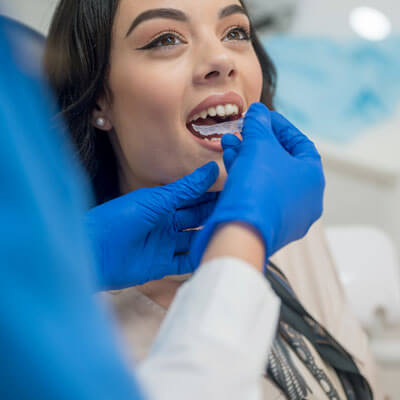 Why Choose Us?
Our experienced and gentle dentists have been creating Beautiful Smiles for Children, Teenagers, and Adults from our CBD dental practice for many years, providing the highest quality of care and superior customer service experience. We understand that superior service is about timeliness, quality of treatment, a happy and friendly environment and complete patient satisfaction.
In addition to traditional metal braces, more discreet options are often available so you can maintain a natural, professional appearance while you straighten your teeth. During your initial visit with our dentist, we will review all of your treatment options and help you choose the one you need for optimal results.
Orthodontic Treatment for Adults
Do you worry that you are too old to straighten your teeth? Or, are you worried that your teeth and jaw shape is affecting your health? Did you know that narrow jaw arches can cause breathing problems and sleep disorders?
It is never too late for you to receive orthodontic treatments! If you are unhappy with your personal appearance, Dr Sally Farhandi and her team can provide adult orthodontic care at Brisbane CBD to help you enjoy a healthier, more beautiful smile.
Approximately 25% of orthodontic patients are now adults. You are never too old for orthodontics! We want you to know that a straight, healthy, beautiful smile is within your reach – no matter your age. Our dentist offers a number of orthodontic treatments and is happy to help you find the one that matches your personal needs and desires.
Treatment for Teenagers
We are pleased to offer orthodontic treatment for teenagers at our comfortable, friendly Brisbane practice.
We know that teenagers can be both self-conscious and take part in many activities, including school, friends, dating, sports, as well as many other extracurricular activities!
We can help you arrive at the orthodontic solution that fits your needs, ensuring our teenage patients achieve straight, beautiful smiles with the right orthodontic services designed around their active lifestyles.
There are several benefits to addressing orthodontic needs during the teen years rather than putting off treatment until later. These benefits often include:
Flexible bones hence shortened treatment time
Reduced need for tooth extraction
The ability to preserve space for any teeth and provide room for crowded, erupting teeth
Restored facial symmetry and aesthetics by stimulating jaw growth
Early Child Orthodontics
When required, Excellence in Dentistry provides early orthodontic care for children which helps monitor the growth and development of the teeth and jaw. Early evaluation helps to determine if, and when, your child will need orthodontic treatments.
The childhood and teenage years are a great time for orthodontic treatment. The American Association of Orthodontists recommends that a child receive their first orthodontic screening by the age of seven years, and we encourage you to bring your child to our Brisbane city dental practice to evaluate their need for such orthodontic treatment.
Early treatment can often detect and correct potential problems before they become more serious, saving you and your Child's time and money.
Advantages of Early Orthodontic Treatment
Because a young child's teeth have not finished erupting, we can address any problems at the earliest possible stage. Whether your child needs removable or fixed appliances, early orthodontic treatment can help to:
Provide more room for crowded erupting teeth
Preserve space for teeth that have not yet erupted
Create facial symmetry by manipulating jaw growth
Reduce the possible need for tooth extraction
Reduce the overall treatment time
When you bring your child to our practice, our dentist will be able to determine whether treatment is needed and when it should begin. If early orthodontic treatment is needed, we will create a personalised treatment plan for optimal results. For more information and to set up your child's orthodontic consultation at our office, we invite you to call or visit today!
What to Expect At Your First Appointment
On your first consultation, we will discuss your desired outcomes, and provide information about your orthodontic treatment.
We are committed to providing you with personalised, high-quality care.
During your first visit to our practice, we will discuss with you your potential treatment options, and go over the pros and cons of each option so that you can make an informed decision about your orthodontic care. We then determine when is the appropriate time to begin your treatment and commence your treatment plan.
Following your appointment, we will provide you with a complete clinical diagnosis and our findings, and a detailed plan outlining your treatment, goals, and the estimated cost of your treatment.
Contact Us Today
We encourage you to ask questions about your treatment, and schedule enough time to provide you with answers during your appointment. If you have further questions, just let us know.
CONTACT US

Orthodontics in Spring Hill, Brisbane CBD QLD | (07) 3839 7757