Dental Crowns in Brisbane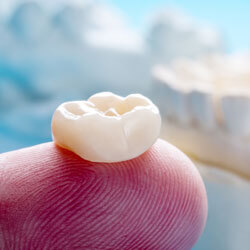 Dental crowns are a type of dental restoration that repairs damaged teeth. Commonly referred to as a cap, they are a tooth-like covering over an existing tooth to restore its function and aesthetic. The crown is cemented into position and covers the entire portion of the visible tooth above the gum line.
We typically recommend this service as a viable option for protecting a badly damaged or decayed tooth. Our dentist may suggest this procedure if your tooth has lost too much structure, requiring more strength and protection than a regular filling can provide. Crowns help protect the tooth from further disruption and deterioration, while also preserving its structural integrity.
NEW PATIENTS

What Materials are Used?
In addition to their repair function, crowns also have the added bonus of improving the appearance of your smile. When it comes to the materials used, there are several options, including zirconia, ceramic, porcelain and metal. Each has their own characteristics, and we will discuss which option is best for your situation at the initial consultation.
At Excellence in Dentistry, we offer CEREC® or lab made zirconia or porcelain crowns. As one of the few dentists in Brisbane with this technology, we can make and fit zirconia crowns in our clinic in a single visit. If you are an eligible patient, this process allows us to fine tune the fitting and reduce costs by eliminating the need to stretch the procedure into two visits.
The Zirconia Advantage
The leading advantage in using zirconia is its strength and durability. Your crowns need to be made of a strong material to handle the pressure your teeth exert while chewing food. In addition, we often have to do less preparation of the tooth, since it's such a strong material.
Many dentists, including us, choose zirconia for its biocompatibility. It has been shown to be less likely to cause a reaction or immunological response, like inflammation.
What to Expect
The procedure for one-day crowns is:
Impression Scan—with CEREC, we use a camera scanner to provide our dentists with precise 3D images of your teeth and their natural colour.
Crown Design—instead of sending impressions to a dental laboratory, the software will analyse the scan of your mouth in just a few minutes, and digitally create the restoration proposal.
Making The Crown—the design is automatically transferred to the CEREC milling machine, which creates the unique ceramic crown specifically designed for you.
Finalising & Insertion—our dentist checks to ensure everything is correct before inserting your new crown. You walk out of the practice with your newly placed restoration and a brighter smile in just one day!
Porcelain Crowns
Porcelain crowns are very durable and may last for many years. However, like most other types of dental crown restorations, they may eventually need to be replaced.
What to Expect
These can also be made by CEREC or sent to the lab. For lab made crowns, you will require two separate appointments at our clinic. The first appointment is to prepare your teeth to the standards required for accurately fitting a crown to the tooth, where a temporary crown will be fitted.
At your second appointment, about two or three weeks after your first one, giving the laboratory time to create your crown, the temporary crown is removed, the tooth meticulously cleaned, and your new porcelain cap/crown will be carefully bonded to your tooth.
Zirconia vs. Porcelain
As with many dentistry procedures, there are options, and some will be better suited than others for your particular dental restoration.
Zirconia offers metal-like strength necessary for restorations. Crowns and bridges made from this all-ceramic material provide real teeth like texture and colouring. The main drawback is less flexibility for colour customisation.
Porcelain crowns are another great choice for highly aesthetic areas, as the colour match variation is exceptional. They are proven, durable, and translucent, but they may need an additional zirconia frame to support them. They may also not be suited to those who grind their teeth.
Learn More
Contact our clinic to speak with one of our knowledgeable staff members about the available options. Call us today!
CONTACT US

Dental Crowns in Spring Hill, Brisbane CBD QLD | (07) 3839 7757