Dentures in Brisbane
Metal Free Dentures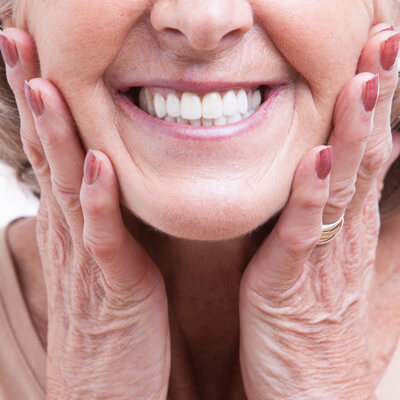 The use of different types of metals in dental appliances, like dentures, combined with an electrolyte-like saliva, has the potential to create an electric current. Known as oral galvanism, when it occurs in the mouth, it can cause symptoms like localised pain, jaw joint disorder, headaches and more.
To prevent this from happening, a standard was set to make all restorations, including removable frameworks, from the same high noble alloy, and not to mix metals at all.
Now, we have a better option—Valplast® flexible nylon-base partial dentures. Comfortable and safe for patients, if you're looking for an alternative to the metal wires, hooks, and clasps visible on partial dentures, this is the way to go.
NEW PATIENTS

What are Valplast Dentures?
With a flexible nylon base, it's perfect for partial dentures. Lightweight and amazingly comfortable, they're almost indiscernible from normal gums. This product has been in use for over 50 years, and is bio-compatible, produced from thermoplastic nylon.
More importantly, the process is non-invasive, and easy and fast to produce, making them a great choice that's quick and convenient.
Advantages for You
Cosmetically elegant – no metal clasps
Metal free—monomer free—acrylic free
Non-invasive clinical procedure
Cost-effective
Unbreakable without the bulkiness
Quality dentures that fit comfortably
Blends With Your Natural Teeth
Types of Dentures Available at Excellence in Dentistry
No matter how many teeth you are missing—whether one, two, or all of them—Excellence in Dentistry can create comfortable and natural looking complete or partial dentures to restore your smile.
Complete Dentures—suited to patients who have lost all their natural teeth. Complete or full dentures replace either all the upper and/or lower teeth.
Partial Dentures—for patients who have lost one, two or a few of their natural teeth. Partial dentures complete the spaces left by lost or missing teeth and are attached to your natural teeth.
Ready to Learn More?
If you're ready to discuss dentures, we're here for you. Other options are also available; let's talk about it! Contact us today to schedule an examination and consultation.
CONTACT US

Dentures in Spring Hill, Brisbane CBD QLD | (07) 3839 7757